I'm going to start doing one post a week dedicated to an item that I love! I find items like these very often, so I don't think this will be a problem! This week, I'll talk about . . .
. . . this ALICE and the PIRATES jumper skirt! I think this is absolutely beautiful. It's made of velveteen fabric and is detailed with cotton lace and velvet ribbon, with pompoms and dot tulle at the hem.
The print/applique on this dress is super cute; it's of a carousel horse underneath a carousel top with real black ribbons pulling the curtains back on the sides! I think the bow at the bottom is a really cute touch, as are the roses at the bottom of the curtains; it gives it a more classic feel to an otherwise hard-to-classify dress! It's hard to tell from their pictures, but I believe that the print is black and very pink-y lavender. I love black and lavender together, so this is another selling point for me! I think this colour scheme makes the dress more of a sweet one, even though the other colour ways (wine red and emerald green) make it seem more of
a gothic dress. The appliques on the other colours are also much darker; the red one has mostly red and silver with a touch of black, and the green one has green and silver with hints of black. I think that's what makes the black version stand out so much; the colours are unexpected!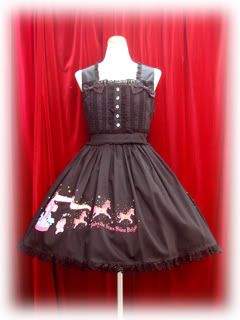 BtSSB's El Dorado JSK in black!
This is, of course, an ALICE and the PIRATES dress. However, way back in 2008, AatP's mother company BABY, The Stars Shine Bright made a dress with a similar print! It was called El Dorado and also was an appliqued dress (as opposed to screen printed or the print woven into the fabric) that featured a carousel and horses escaping and running off! On top of the carousel, there's a flag that says "Revolution, Revolution" which I think is funny; it makes me think of lolitas wearing this dress while performing a coup d'état! In all seriousness (well, as serious as lolita can get!) I think this is an equally beautiful dress and the blue version is definitely one of my dream items, and it has been ever since I saw it in person at a convention in 2009. Also, I believe that Angelic Pretty probably got some ideas from this dress for their famous Sugary Carnival print! (this, conveniently, is also a dream dress of mine! I absolutely adore the lavender version. I guess I just love carousel prints, who knew?!)
I absolutely love ALICE and the PIRATES; they're definitely one of my favourite brands. When I lose a bit of weight and get down small enough to wear their things, I'm probably going to do most of my shopping from them. (I just need 1-2 more inches lost before I can wear most of their stuff!) I love seeing them do sweeter, yet still gothy, things like this dress! I hope to see more things like this in the new year.