This is a slightly different than usual
Angelic Pretty
dress. The print is called Trump Carnival and the print is very detailed with images of playing cards and ponies all over, and letters spelling out "ANGELIC PRETTY" falling down the dress! It has tulle lace at the bottom of the ruffle, a large black bow at the waist (except for the pink version, which has a pink bow on it!), a small black bow at the top, and a ribbon brooch at the strap. This is a pretty unique dress for AP!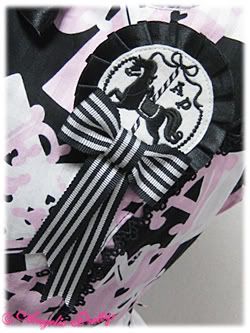 close-up of the ribbon brooch
I think this dress is really cute, especially because of how different it is from AP's normal sugary-sweet-pastel-vomit, and as much as I like that (in fact, I love it!) it is always nice to see something different. While this is similar to their other dresses in that it comes in pink and black with pink accents, the other colour choices are much different. It comes in
red and black
and
blue and black
, as seen above. These two colours might be seen more often in other brands (especially the moitie-esque electric blue!) but they are fairly rare for Angelic Pretty. In fact, I think the last time I saw these colours in one of their prints was 2009's
Starry Night Theatre
, which this print actually reminds me of! Since this print is called "Carnival Trump" and Starry Night Theatre has to do with a carnival, they are actually quite similar. If you look closely, they also have a similar bodice and both of them have felt brooches that came with the dress! However, I still believe that they are pretty much entirely different, except for those few similarities. The colours were, to me, the sole-defining feature of this dress. If this dress was released in typical AP colours (pink, sax blue, lavender, yellow, mint, or any other pastel colours) this dress wouldn't have been nearly as interesting, and I don't think it would have worked as well either! I like the more goth-y elements to this dress, like all of the black accents and the vertical stripes that are created because of how the print was produced, and if it had been made in pastel colours, it wouldn't have looked nearly as cohesive and just plain appealing. My favourite colour in this print has to be the blue; it is just so bright and fun! That blue colour makes me think that this is what a
moi-meme-moitie
dress would look like if they designed a sweet carnival print -- highly unlikely, but that's what I think of! (Of course, they would make it much, much more elegant than this ridiculously cute and ruffly piece, but ah well. Maybe this could be a jumping-off point? MmM, make a carnival print dress, it would be your new Iron Gate for the borderline sweet-gothic crowd!)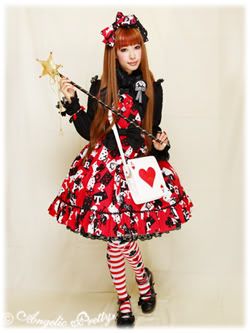 AP's coordinate!
I also just flat out love how AP chose to coordinate this on their website. Red is my favourite colour, especially bright shades of it like this dress, so I really liked seeing this coordinate; I think it's awesome! I'm really glad that they didn't shy away from using black in the coordinate, because they could have easily made this super-sweet by pairing it with lots of white and hardly any black. I also love the ridiculous star wand (I am such a sucker for stars!) and the playing card purse, though I think all the white of the purse is sort of distracting. I am also a huge fan of blouses with gigantic bows at the neck, so that's also a plus.
Sadly, I haven't seen anybody
actually
wearing this dress, besides the AP models. I haven't even seen any street snaps with this dress or this print! Which is too bad, because I think it's truly a lovely dress and so I wonder why more people don't like it. When it was first released, there were discussions on
angelic poodle
and
EGL
about it, and the general consensus was . . . nobody liked it! But I fell in love with it at that point (I was definitely in the minority) and when it was posted to the website and I saw this coordinate, it made me love it even more! I'm hoping that in a month or so (for my birthday!) I can find this for cheap on mbok or Yahoo! Japan, because I love this print. Since nobody else seems to love it, that makes me more hopeful that I can find it for cheap somewhere!